This month a new festival is taking place in the city - the
Brighton Digital Festival
. Given the fact that we were recently named
the third geekiest city in the country
it's no surprise that we now have a geeky festival too!
There are a wide variety of events taking place including a
QR Treasure Hunt
around Brighton. For the non-geeks out there I will just quickly explain what a QR code is. They look a bit like a square barcode and anyone with a smart phone can download a free app which they can then use to scan the code. This then opens up a website, some text, contact details or anything along those lines. Here's one for you to try: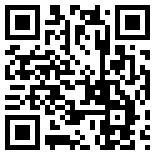 So the clever people behind the
Brighton Treasure Hunt Company
and
Sodaworks
have decided to use these QR codes to give a 21st century twist to the traditional treasure hunt. Last week Siobhan and I were fortunate enough to join the test run. So once the teams were picked and we'd scared our poor team-mate Ben with our extreme competitiveness, we were off.
Each team was given a map with the 13 locations marked on it, then we had to hunt them down, scan the code and answer the question. Here's a tip: don't try and guess the answer to the questions you will need to follow the clues to find the answer (no one mention Quakergate!).
I've realised I need to be careful what photos I include as I don't want to give away where all the codes are but I think I can get away with this one...
Like all the best events this one ended in the pub where the winners were announced - sadly we didn't win but we were very gracious, not at all bitter and certainly didn't demand a recount ;)
Not having done a treasure hunt before and being a smartphone newbie I wasn't entirely sure what to expect. However being a tad on the geeky side I loved it, although I must try to stop squealing each time a QR code works! I think this has something for everyone as the geeks will like showing off with their phones, the quiz fans will enjoy the clues and it's also a great alternative way to view the city as it draws your attention to sights you would normally pass by.
I would definitely recommend this to anyone to try and as it's only £5 per person it's good value for money too.
For more information and to book your tickets go to
http://qrtreasurehunt.co.uk
.
So thank you to Marie and Georgie for letting us take part and well done on organising such a fun event:
Charlotte