Due to being snowed in at home in Newcastle last week I had to have some snow days up home. That meant I didn't have time to explore all the 'Christmassy' (if that's even a word!!) events in the city.
Before I left I did however manage to have a peek at the gorgeous Christmas grotto that is in the
Churchill Square Shopping Centre
where I started my present buying mission.
On the Tuesday the comedian John Bishop was on at the
Brighton Dome
. This was the first time I had been into the Dome; I have to say I was pretty impressed as soon as I walked through the door by its grandness. This was his 'Sunshine Tour' and as he isn't really that well known he seemed to be grateful for the large amount of people he classified as 'those who took a gamble on him actually being funny'. The audience were laughing out loud the whole time, my favourite bit of course were his reactions to the cringe worthy hecklers shouting out completely irrelevantly and his totally northern reaction to the couple that turned up late; one called Phellula and the other who busked for a living. My face being in agony from smiling and laughing so much, was a good sign of a winning comedian and a definite recommend for you to see him from me! I also have to say he defiantly has to be related to Bez from the Happy Mondays!!
You will have to wait until Monday to see how John Bishop compares to Ross Noble, who I have had tickets for what seems FOREVER to go see tomorrow!
Last week we also had dinner at the
New Steine Hotel
, Bar & Bistro, we received a charming welcome from Mr Herve Guyat, the director, and had faultless service from Mr Stephane Gaucher, who is the general manager of the hotel. We were wined and dined within the charming atmosphere while fully enjoying the evening. I would like to thank them for both their kindness and hospitality.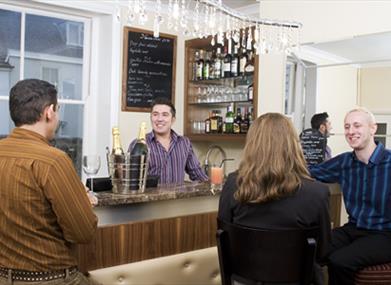 That's all from me this week. I know I have been boring; I haven't even had time to catch up on X Factor!
So goodbye until next week…enjoy the snow!!
Sophie