Apparently today is the most depressing day of the year. I'm not going to go into the reasons why as I'm sure you can work that out for yourselves. But my argument would be it's only depressing if you decide to focus on these negative things.
So let's try and be more positive shall we? It's the start of not just a new year but a new decade which means lots of exciting things to look forward to. There are lots of
fantastic events
coming up in Brighton & Hove this year but the one that's really caught my eye is -
The Chocolate Festival
Anyone who knows me will know that like a lot of people I have a bit of a soft spot for anything to do with chocolate. The Festival is on for 2 days on the 20th & 21st March from 10am-6pm and best of all it's free! The festival will be taking place along New Road which will be chock full of stalls dedicated to chocolate (did you spot the pun?) There will be kits so that you can make raw chocolate at home plus drinking chocolate, bars, truffles and even some savoury treats.
So to get you in the mood here's a picture of delicious chocolate cake courtesy of our freinds at the
Angel Food Bakery
: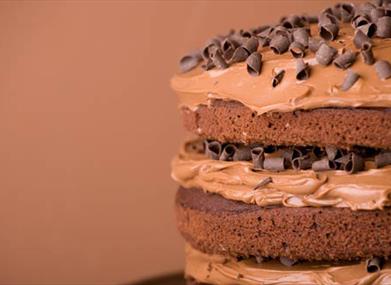 So there's something to look forward to. But if you still need an antidote to 'Blue Monday' then why not head over to the Theatre Royal tonight to see
Spike Miligan's Adolf Hitler: My Part In His Downfall
Charlotte