Brighton is known as a festival city as there seems to be something going on throughout the year and yet somehow we still manage to fit in a few new events as well!
On Sunday 25th July the
Thai Festival
will take place at the Hove Centre from 11am - 6pm. There will be a range of restaurant stalls creating dishes from 4 different regions of Thailand. Including classic dishes such as Pad Thai and Green Curry as well as newer recipes such as Moo Ping (fantastic name!) and Gaeng Masaman - I could tell you what these dishes are but why not pop along and found out for yourself...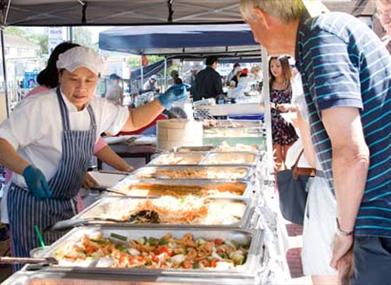 It's not just about food though as there will also be craft stalls, Thai classical music, boxing and martial arts demonstrations and fruit and vegetable carving. Of course along side the food you will also be able to pick up a Singha beer or a glass of Monsoon Valley Thai Wine. Then round off the day with a Thai shoulder and foot massage.
If the festival has sparked your enthusiasm for all things Thai then don't forget we have a great Thai restaurant in Kemp Town called
Sawadee
and you can also learn to cook or speak Thai with
Thai Style
. It's all Thai-riffic!
Charlotte